Going to great lengths for a good cause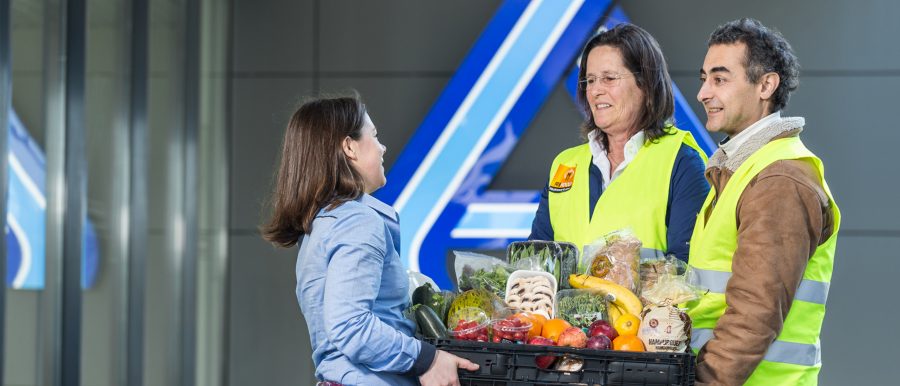 ALDI Portugal works to help the needy through a large number of social projects. In 2017, new partners joined these efforts. Together, we support above all families, the homeless and children. We also provide our customers with the opportunity to pitch in.

With just 57 stores, ALDI Portugal is still quite a small player in the country. However, social commitment plays a big role here. Whether at the Algarve or in the north of the country, we feel closely connected to the people. Through a variety of regional projects, our food and in-kind donations reach the local people. Several months ago, we welcomed more new partners, and we would like to introduce two of them here.

Help for the homeless and needy families
The organisation Assistência Médica Internacional (AMI) is particularly committed to helping the homeless and needy families. In addition to food, we also donate clothing and home appliances to AMI, which makes sure these items go to good use. The promotions involving the "AMI Alimenta" brand ("AMI feeds") also were a success. Part of the proceeds from the purchase of these products benefited aid projects. For example, by buying potatoes, our customers in Portugal helped get elderly people out of lonely and isolated situations. Proceeds from the sale of clementines went to programmes for children who are at risk of being socially excluded. Customers were able to find out where their donation went right on the product packaging.

Helping through Fruit Heroes
Additional partnerships
These are just some of the new additions. ALDI Portugal supports many other initiatives, and has already been doing so for several years in some cases. Here are a few examples:

Re-Food – Organização de Apoio Social (November 2015 to present)
CASA Centro de Apoio ao Sem-Abrigo (June 2015 to present)
Crescer Ser (December 2015 to present)
CERCI – Flor da Vida (September 2016 to present)
Serviço Jesuíta aos Refugiados (May 2015 to present)
Comunidade Vida e Paz (April 2016 to present)
Conselho Português para os Refugiados (May 2015 to present)
More content
regions.regionSwitchHeadline
regions.regionSwitchText
regions.regionSwitchTextExplicitSwitch